Emulsion Bitumen Batching Plant
Emulsion Bitumen Batching Plant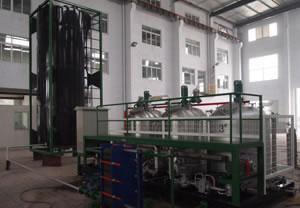 As the name suggests, the emulsion bitumen batching plant is applied to produce emulsion bitumen for construction project. The emulsion bitumen is generally used as the waterproof layer for road. Used in conjunction with wet base, the emulsion bitumen has considerable bond strength.
Our construction material machinery is well received by our clients, because the emulsion bitumen produced with the emulsion bitumen batching plant can be employed for cold construction, which effectively eliminates the incidents caused by hot bitumen, such as ignition, burn, poisoning, etc. In addition to high safety, environmental protection can be realized, as well.
The emulsion bitumen machinery is an ideal choice for road construction, since the emulsion bitumen enables the reduction in labor intensity and the improvement in working efficiency. In addition to the easy cleaning of the construction machinery, our emulsion bitumen batching plant will help you produce emulsion bitumen for low cost road construction.
Specifications
Item
HIM-EB-60
HIM-EB-120
HIM-EB-200
Capacity (t/h)
6
12
20
Dimension (L×W×H) (m)
5×2.2×2.5
6×2.5×2.8
12×9×4
Weight (t)
7
10
15
Installed Power (kw)
28
48
100
Power Source
220V/380V, 50Hz