Dry Mortar Production Line
Dry Mortar Production Line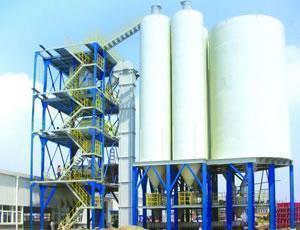 Introduction of Dry Mortar
1. In contrast to job-site mortars, dry mortar is also called pre-mixed mortar, which is produced in the factory with dedicated facilities on batching and blending of ingredients in highly-controlled process. It can be used directly just by adding water in job site.
2. It has advantages of consistent quality, controlled inventory, saving time and labor costs. By adding different chemical additives, it has fine properties of bond, thermal and acoustic insulation, crack-resistance, workability, water-retention, wear-proof, anti-corrosion, etc.
3. Dry mortar can match different kinds of new construction materials by improving formulation. These good properties not only improve building's quality and life greatly, but also decrease the usage of mortar in a large degree.
4. The demand for dry mortar has increased rapidly due to its outstanding merit comparing with the mortar made in job-site.
Applications
Types of Dry Mortar
| | |
| --- | --- |
| Type | Description |
| Bonding Mortar | Masonry mortar, wall and floor tile adhesive mortar, anchorage mortar etc |
| Decoration Mortar | Decorative plaster, inner and outer wall putty, colorful decoration mortar etc |
| Protection Mortar | Water-proof mortar, anti-corrosion mortar, self-leveling mortar, wear resistance mortar, thermal insulation mortar, sound insulation mortar, repair mortar, mildew-proof mortar, shielding mortar etc. |
Raw Materials
Item
Description
Binders
Cement, hydrated lime, anhydrite, gypsum
Filler
Silica sand, quartz sand, limestone, dolomite, expanded perlite etc
Mineral admixture
Ground granulated blast furnace slag, fly ash, pozzolana, fine silica powder etc
Water-retention and thickening material
Chemical additives
Cellulose esters, super plasticizer, air entraining agents, accelerating agents, retarding agents, de-foaming agents, hydrophobic agents, and etc
Main Configuration of Dry Mortar Production Line
Raw Material Storage Silos / Sand Drying Unit / Bucket Elevator / Spiral Conveyor / Weighing System / Mixer / End Product Hopper / Bagging System / De-dusting System / Computer Control System / Air Compressor / Air-phase Balance System / Steel Structure/ End Products Storage Silos
Technical Parameters of Dry Mortar Production Line
| | | | | |
| --- | --- | --- | --- | --- |
| Mode | Capacity | Area | Height | Note |
| Simple | 1~15t/h | 40m2 | 5~10m | Manual batching and packing |
| Basic | 5~15t/h | 40-60m2 | 6~10m | Manual batching, automatic packing |
| Semi-automatic Serial | 5~15t/h | 40~80m2 | 8~12m | Automatic batching of coarse material, manual batching of additive, automatic packing |
| Semi-automatic Tower | 5~50t/h | 40~100m2 | 10~25m | Automatic batching of coarse material, manual batching of additive, automatic packing |
| Fully Automatic Tower | 5-100t/h | 60~500m2 | 10~25m | Automatic batching of all raw material and packing |
Flow Chart of Dry Mortar Production Line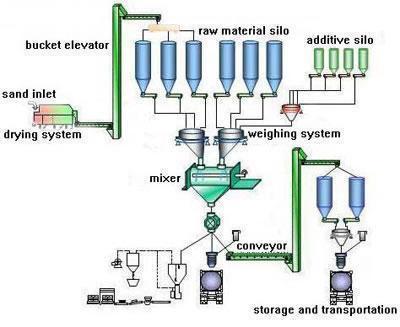 Related Names
Ready Mix Production Line