Autoclaved Aerated Concrete Production Line
Autoclaved Aerated Concrete Production Line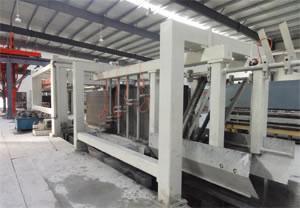 Introduction of Autoclaved Aerated Concrete (AAC)
With the obvious advantage of light weight, this Autoclaved Aerated Concrete (AAC) is a multi-cell new construction and building material, which is made from silicon material (silica sand, or recycled fly ash) and calcium material (lime, cement), mixing with foaming additive (aluminum powder), batching with water, the reaction between aluminum and concrete causes microscopic hydrogen bubbles to form, expanding the concrete to about five times its original volume. Through the processes of molding, pre-curing, cutting, evaporating and curing, this building material is then made into the multi-cell silicate product.
Features of Autoclaved Aerated Concrete( AAC)
• Lower density
• Good heat insulation and preservation
• High processibility
• Fire and acoustical resistant properties
• Most prominent advantage: plasticity
Application of Autoclaved Aerated Concrete products
Technical Parameters of Autoclaved Aerated Concrete Production Line
Item
Unit
HIM-AAC-10
HIM-AAC-15
HIM-AAC-20
HIM-AAC-30
HIM-AAC-45
Capacity
×103m3/year
100
150
200
300
450
m3/day
350
500
700
1000
1500
Block Size
m
4.0×1.2×0.6
4.2×1.2×0.6
4.8×1.2×0.6
6.0×1.2×0.6
6.0×1.5×0.6
Installed Power
kw
800
900
1100
1300
1500
Workshop Area
m2
2500
3000
4000
5000
6000
Plant Area
m2
20000
25000
30000
35000
40000
Technic Index and Autoclaved Requirements of Autoclaved Aerated Concrete Production Line
Item
Description
Raw material mixing and pouring cycle
8 minutes
Base body static curing time
1.5~3 hours
Static curing temperature:
40℃
Strength after static curing
0.2~0.3Mpa
Base body cutting cycle
6 minutes
Autoclave pressure
Vacuuming
0-0.06 Mpa, 0.5hour
Rising pressure
0-1.3 Mpa, 2hours
Working pressure
1.3 Mpa (temperature 193±5) 7hours
Falling pressure
1.3 -0 Mpa, 2hours
Raw materials batching rate:
Sand (or Fly Ash)
69%
Lime
20%
Cement
8%
Gypsum
3%
Aluminum powder
0.074%
Note: The accurate raw material batching rate is adjustable according to local raw material.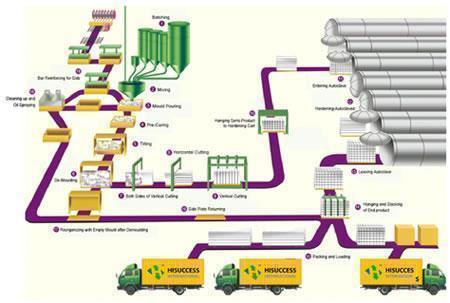 Related Names
AAC production line | Autoclave aerated concrete production line | Lightweight concrete block production line