XPS Insulation Board Production Line
XPS Insulation Board Production Line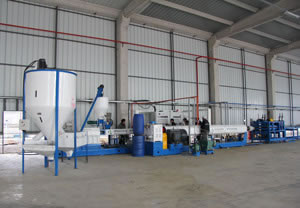 Introduction of XPS
XPS (extruded polystyrene) insulation board--- a kind of new insulation material is a high quality polystyrene foam product characterized by smooth skin with a closed-cell structure that looks like a mass of uniform bubbles with common walls between them. There are few, if any, voids between the cells, top and bottom skin. Comparing with other traditional heat insulation materials, such as EPS (Expand Polystyrene Foam), PU (Polyurethane Foam) and Rock wool, XPS is improved in terms of insulation, moisture-proof, compressive strength, durability, convenient installation and low cost. As an ideal heat insulating material, XPS is widely applied in heat preservation and insulation systems, moisture-proof and obstruct systems, with promising potential market.
Advantages
1. Competitive Price
The XPS insulation board production line comes with updated technology and high quality. Compared with the XPS insulation board machinery with the same capacities from Europe, our product is much cheaper. In addition, this production line can help users realize low-carbon economy.
2. Wide Range of Raw Material
The building material production line uses recyclable materials for production, such as EPS, XPS, GPPS, as well as virgin GPPS, which is conducive to the environment protection and the cost reduction during XPS board production. However, XPS insulation board production line from European countries only employs virgin GPPS as raw material.
3. Environment Protection
Taking LPG, butane and/or CO2 as well as ethanol as the foaming agent, the manufacturing process and the insulation board cause little HCFC or HFC, preventing the air from being polluted.
4. Flexible Configuration and Wide Production Capacity
The first extruder can be designed with single or twin screws. With different screw diameters and sizes, the first extruder and the second extruder can be flexibly configured to realize the output from 200kg to 600kg per hour, capable of meeting most of the clients' requirement.
5. Rich Experience
We have rich experience in the production, installation and operation of the XPS insulation board production line. The worldwide application of our product demonstrates our excellence in product manufacture, installation, commissioning, testing, customer training, and after-sales service.
6. Quality Certificates
This construction material machinery is CCC, CE, ASME, GOST compliant.
Main Configuration of XPS Insulation Board Production Line
Feeding System / First Extruder / Hydraulic Mesh Exchanger / Second Extruder / Mould / Calibrator / First Haul-off Unit / Longitudinal Cutter / Cross Cutter / Second Haul-off Unit / Controlling System / Packing System / Auxiliary equipments
Technical Parameters of XPS Insulation Board Production Line
Item
Unit
HIM-X-250
HIM-X-500
HIM-X-750
Extruder System
-
1st Extruder
2nd Extruder
1st Extruder
2nd Extruder
1st Extruder
2nd Extruder
Screw Diameters
mm
135
150
75×2
160
75×2
200
L/D Radio
L/D
30:1
33:1
30:1
40:1
30:1
36:1
Driving Motor Power
kw
75
55
75
75
90
90
Capacity
kg/h
250-300
350-450
450-550
Product Width
mm
600
600
600
Product Thickness
mm
20-100
20-100
20-100
Density
kg/m3
30-39
30-39
30-39
Total Power
kw
260
280
350
Layout of XPS Insulation Board Production Line


Compare of Main Insulating Materials
Item
XPS
EPS
PU
Rock Wool
Thermal Conductivity [w/( m·k)]
At the beginning
0.030
0.041
0.02
0.044
After three years
≤0.04
≥0.06
≥0.06
≥0.06
Compressive Strength (kpa)
When dry
350
80
165
After watering
350
60
110
Tensile Strength (Kpa/m2)
≥300
≥65
—
—
Density (kg/m3)
32~39
25~28
25~30
150~200
Water Absorption (%)(V/V)
At the beginning
≤0.76
≤8
≤6
≤5
After three years
≤1
≥40
≥40
≥40
Thickness (mm)
25
38
21
—
Volume Stability
Good
Good
Good
Good
Combustibility
B2
B1
Noncombustible
Direct Use
Easy
Easy
Easy
Difficult
Raw Material
100% new material ~
100% recycled material
100%
new material
100%
new material
100%
new material
Cost
Low
Middle
High
Middle
Production Process
Easy
Easy
Complex
Complex contaminative
Related Names
XPS Production Line